FS Item(s) Description:

My american friends, take advantage of the weak Canadian dollar and buy yourself this rare beauty on the cheap!

Make: Saab
Model: 9-2X Aero
Year: 2005
Miles on Motor: 140000KM/86991miles~
Miles on Odometer: 140000KM/869991miles~
Transmission: Version 7 6MT Non DCCD
Fuel Type: 91
Software: Accessport V3

Engine
Modifications:
STi Pink 565cc Injectors
VF48 Turbo
TOMEI UEL Headers + Catless Uppipe
TSUDO Downpipe
Blitz Nur Spec Exhaust
Version 7 Sti TGV Deletes
Version 7 Sti TMIC (bigger than a stock STi TMIC)
Grimmspeed AOS
Grimmspeed Turbo Heatshield
Grimmspeed 3Port EBCS
Grimmspeed Exhaust Gaskets
Grimmspeed TMIC Air Splitter
Grimmspeed Alternator Cover
Grimmspeed Radiator Cover
Grimmspeed 8mm phenolic spacers
Mishimoto X-Line Racing Radiator (Larger Core)
K&N Typhoon Intake
Turbosmart Bypass Valve
Group N Engine Mounts
Group N Pitchstop
Exedy Stage 1 Organic STi clutch
Walbro 255 Fuel Pump

Suspension+Brakes:
Tein HA Circuit Master Coilovers
2004 STi Brembo Caliper Conversion (F+R)
Stoptech Slotted Front Rotors
DBA 3000 Rear Rotors
Stoptech Street Brakepads

Interior:
2006 WRX Seats (Heated)
KiWav integrated Rear View Mirror Dashcam 1080p

Maintenance History:
112000kms - Timing belt, water pump (previous owner)
114000kms - Oil change (under my ownership), Steering rack replaced
119000kms - Oil change, UEL headers, Downpipe + Catback installed
124000kms - Oil change, Motor health check - Compression and Leakdown Tested
130000kms - Stage 3 Upgrade (maintenance includes new spark plugs, coilpacks, new exhaust gaskets, throttle body gaskets, valve cover gaskets, 6MT swap, brembo brake swap, newer fuel sending unit replaced)
135000kms - Oil Change, MAF sensor cleaned and resealed, Coolant flush, Motor health check - Compression and Leakdown Tested
138000kms - Rubber fuel hoses underneath intake manifold replaced
140000kms - Axle seals + retainers replaced, Tranny fluid flush

The dash gauges and a double-din deck I will be replacing back with the stock parts and are NOT included in the sale. Car comes with stock Enkei rims with Michelin X-Ice Winter Tires

Car is tuned by Stephen Clark from iAPerformance and it put down 280hp/290tq to the wheels on a dynojet. The current boost threshold is set at 18.5psi. The car has 0 rust and I can name you every mod I've done to this car and why. The only downside is that the AC needs a recharge (I have refill cans but I'm not sure if it's enough to fix it). This car puts down more power compared to a stock STi (rated at 220-240 wheel horsepower).

I drive this thing like a granny and it's cared for meticulously. NO LEAKS!! I've just had the axle seals replaced on the transmission as it was leaking ever so slightly. Engine oil changed every 5000kms, and tranny oil flushed every 30000kms. I know the previous owner who had it and took care of it in the same meticulous condition.

I have compression and leakdown numbers done back in November (solid, with the most being 7% leakdown on cylinder 4 which is within acceptable tolerances), and I haven't really driven the car since it's been in storage.

I built my car to be a sleeper and I think I've done pretty well. This car is 110% mechanically sound.

Everything on this car is ORIGINAL (motor mileage matches chassis mileage), minus the add-ons. Yes, that means it's still the stock EJ205. I have a spare V7 EJ207 STi longblock that can be included in the sale for additional pricing.

I will assist buyers with all importation documentation/release documentation required for successful importing. All recall work for this vehicle is up to date (including the takata airbag recall). Arrangements must be made by the buyer to come up to Canada to pick up the vehicle. I can either pick you up from Toronto airport or meet you at Niagara Falls, Ontario border.

Cash sales preferably or the ONLY trade I'm considering is a GR 09+ STi Wagon/Hatchback with Sporttech Trim (with sunroof) + cash on my end.

Asking Price:
$9500USD FIRM

Location:
Toronto, Ontario, Canada

Contact:
PM or txt 647 FOUR FOUR 7 ONE 9 THREE 5IVE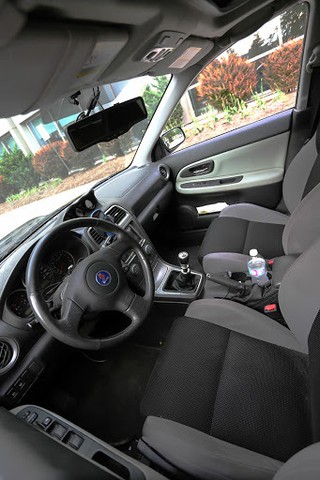 More pics here:
http://www.kijiji.ca/v-cars-trucks/city … nFlag=true

My walkaround tour of my 9-2X Aero:
Saabaru 9-2X Aero Video Walkthrough - YouTube

Hopefully this is good enough proof...


Last edited by psshhhaa (2017-05-18 23:16:52)